Tenshi Nanka Ja Nai

Manga
Author
Ai Yazawa
Publishers
Shueisha
Magazines
Ribon
Original run
September 1991 - November 1994
Volumes
8
Chapters
41 (List of chapters)
OVA
Director
Studio
Production
Networks
Release date
September 21, 1994
[Source]
Tenshi Nanka Ja Nai (天使なんかじゃない, lit. "I'm Not an Angel"), often shortened to Ten-nai, is an eight-volume romantic comedy manga by Ai Yazawa. Ten-nai was probably Yazawa's first successful series. It was serialized in Ribon, like many of Yazawa's other series. The manga was collected into eight volumes by Shueisha, and was reprinted into four volumes in 2004 and six volumes in 2008.
An OVA adaptation was released sometime in 1994. That same year in October, Ai Yazawa published an artbook featuring Ten-nai.
Midori Saejima has recently enrolled at Hijiri Academy, a recently established school, and her classmates convince her to run for student council. At first she was against the idea, until she sees that her recent crush, Akira Sudou is running too. Midori is elected the vice-president, and Akira is president. She becomes fast friends, after sometime with the rest of the council, Yuko Mamiya, Shuuichi Takigawa, and Bunta Kouno.
Main article: List of Tenshi Nanka Ja Nai chapters
Tenshi Nanka Ja Nai was serialized in Ribon from 1991 to 1994. Originally, Shueisha published the manga into eight volumes.
In 2000, after Nana became popular, Shueisha republised Ten-nai into four volumes with all-new covers designed by Ai Yazawa. Again from 2008 to 2009, Shueisha republised again into six volumes this time with covers that depict real-life scenes related to the manga.
Main article: Tenshi Nanka Ja Nai (OVA)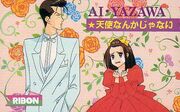 An OVA adaption premiered at the Ribon Festival on September 21, 1994, and focuses roughly on the beginning of the manga. It was released on tape sometime after it's debut.
Main Article: Tenshi Nanka Ja Nai Artbook
After, gaining some success Ai Yazawa was enabled to publish an artbook. It contains full-color illustrations as well as pages for various Ten-nai products.[1]
Light novels
Edit
Main article: Tenshi Nanka Ja Nai: Romantic Story
Tenshi Nanka Ja Nai was adapted into eight light novels by Kanae Shimokawa. Each cover is designed by Ai Yazawa. They were published by Shueisha under the Cobalt Pinky label from 1993 to 1995.
References
Edit